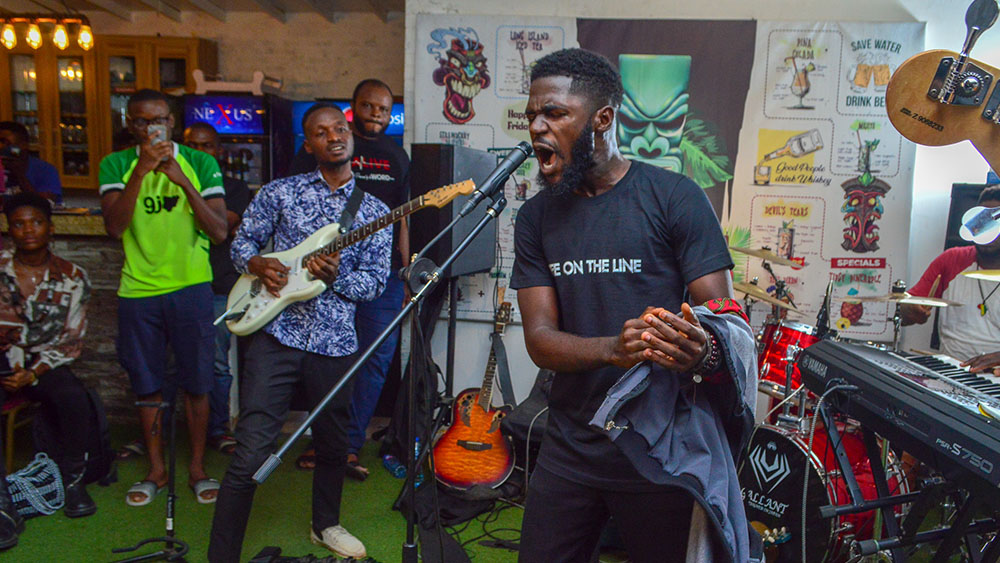 As the year 2019 was winding down it had become obvious to anyone who was paying attention that the year, the decade even, had been a huge success for Nigerian music. From the international success of Afrobeats as exported by Burna Boy, Wizkid, Tiwa Savage, Mr. Eazi, and others, to the massive wins recorded within the country. But upcoming artists are not left out; some are taking the extra steps required and pushing limits, like independent hip-hop act, Tonton Raymond.
Recently, I sat down with Raymond, six days after the Live on the Line concert which he had crowd-funded and executed without spending a kobo from his pocket. It was a dry dusky evening in Abuja at a serene café in Wuse and he was wearing a Life on the Line merch.
"If I say amazing that would be an understatement," he said of the concert, flashing a wide grin. "It contained a wide range of feelings but ultimately, it felt really good. I just pulled off something I thought I couldn't pull off."
He paused, seemingly searching for the right words.
"I started off expecting to fail at it, but it turned out spectacular. I expected the possibility that I would fail at it. Who would have thought? Instead of failing at it, I executed it at a level way bigger than planned."
The year has been a wildly successful one for the 24-year-old rapper who moved to Abuja in 2017, shortly after his compulsory service year. Recording and releasing his first single, Love is Loss, putting out his Life on the Line EP in August and announcing a concert a month later when he had no idea where the money would come from.
Where did he get the idea to crowd-fund a concert? From a casual conversation with a friend who believed in his music so much she suggested it to him, believing other people would see what she had seen. As it turned out, he met his budget target, and a little more.
"I had a final downsized budget of N350k from which I had cut out a lot of things. And for a concert in Abuja, that is a really small amount. I was banking on calling in a lot of favours. But it still seemed impossible. So by the time I announced the crowd-funding in October, I knew that was the lowest I could go. I needed to set up a team and conduct rehearsals and all that."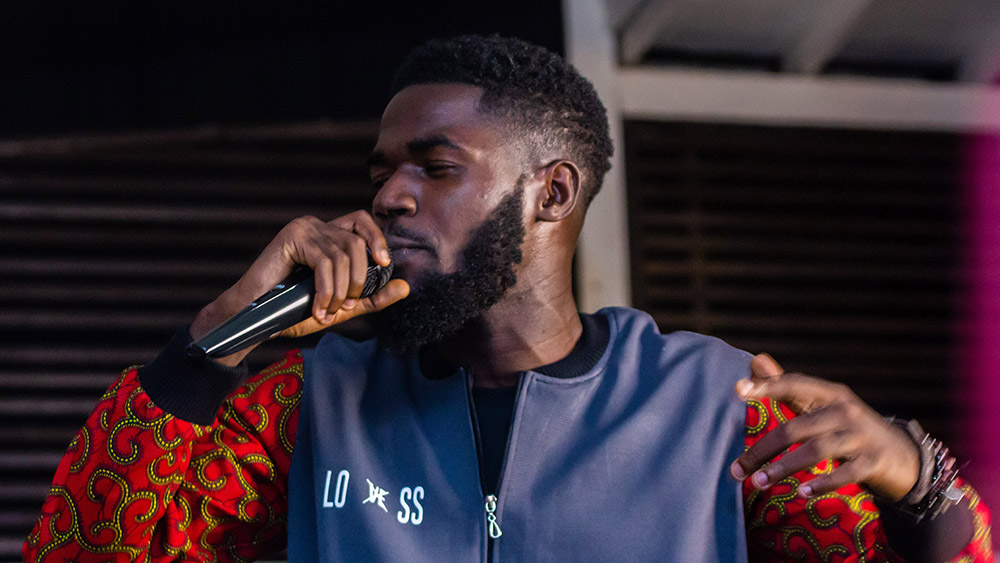 A few weeks leading to the concert, Raymond invited me to the rehearsal venue, a residential bungalow converted into a music studio in Kubwa, a satellite town far-removed from the city centre. A guy I would come to know as Bibo led me into a kitchen door, walked me through a narrow hallway and into a small narrow room where Tonton and eight others were. Most of them were members of an Abuja-based band called Native Crafts. Beige cushions lined both sides of the room. A camera sat on a tripod stand, capturing their movements. Rehearsals had already begun.
Tonton stood in front of the mic, rapping to a track off his EP titled Lost Bodies. He had a backup vocalist, Sunshine, who sang the hook in pidgin:
"Water carry them go
This is for lost bodies…"
Bibo's remarkable rehearsal performance was of a song titled Jazz followed by another, Zero Finesse – a rap song chronicling the ordeal of a cheating boyfriend to a faithful girl. The accompanying sound delivered by the band takes off under a bed of rock and slowly switched into the palmwine-infused Afro-rap the Nigerian duo Show Dem Camp have become known for.
Ruth Mahogany offered a poetry-infused music performance followed by a soulful rejigged cover of Hozier's Someone New rendered by Sunshine. He titled it Ghosted.
But what were their expectations for the concert? How do they feel being part of the team? How did they become a part? What were their individual roles? What were their relationships with Raymond?
"I'm very happy about it," Prince, an acoustic guitarist, said. "I like to encourage young artists who want to do live music . . . because most artists do DJ tracks and turntables but that doesn't show artistry."
Bibo, a rapper, singer, and actor, jokingly said he was harangued into becoming a part of the concert much like his friendship with Tonton whom he met at a mutual friend's.
"Tonton had the idea and believed and acted on it and that is why all of us are here helping him pull it off," he said. "He spoke it into existence and that is a really good thing. He has done a great job."
Tay White, the percussionist who is also a vocalist described his experience with the team as "marvellous". He would do anything to work with them again.
Talking about his relationship with Tonton, "we are mutual friends with The Isomers", Mr Shine says, referring to one of Abuja's foremost rock bands. He's doing it for the love of good music and, "as the kids say, for the vibe".
*
The concert venue was a small space at Zodara Cocktail Bar, a poolside pub in Statement Hotel, located in Abuja's Central Business District. As small as the space seemed, it was a lofty dream for an upcoming hip-hop artist in the city of Abuja. But as soon as the show commenced it was clear at once why the venue was a great fit.
Arriving there almost an hour early, I caught glimpses of the line-up acts rehearsing their songs, directed by a young man carrying a tiny ponytail dreadlock. Known as Cheso, he is an Abuja-based music artist. I had seen him perform his songs at a poetry event a few weeks ago. When I spoke to members of the crew, they had all mentioned his name, so I had to speak with him before the show began.
"I'm not surprised. I have known him for a while now", he said about Raymond. "Everything looks good. And I've been playing with this band for almost 10 years now", he added.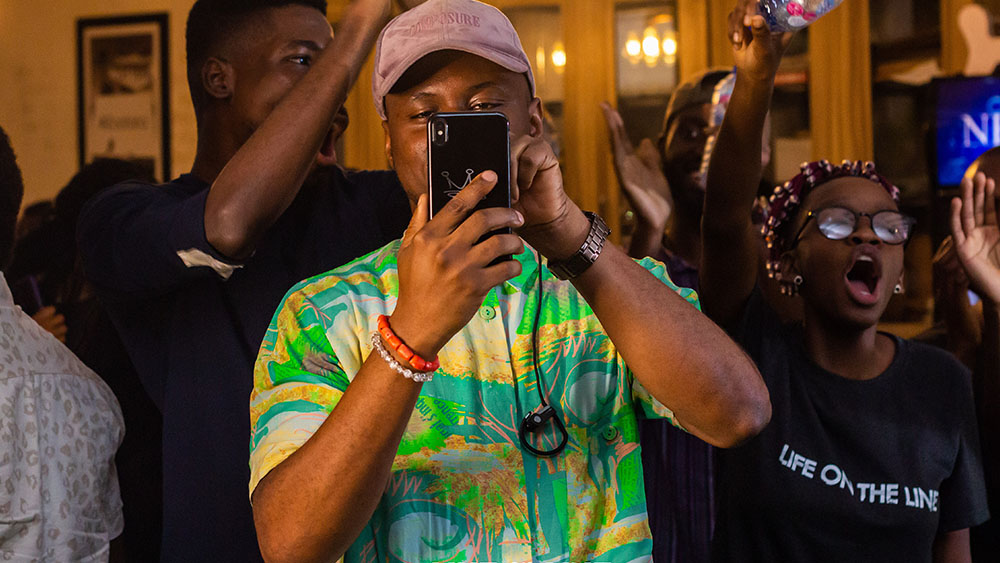 Looking around, the seats were being filled up. People ordered drinks and waiters delivered them. Beers. Cocktails. Smoothies. People kept pouring in, the empty seats disappearing. But there was enough standing space and people didn't mind working their feet.
The MC was late but the show began right on time. Buchi Onyegbule, a broadcast journalist, took the mic for just as long as it took the MC to show up. The band was introduced: Shola Bass, Bethel, Prince, Donald, and Tee White.
Mr Shine's slow soulful song Ghosted was perfect for starters. It was a breezy evening after all and the audience was easing into the mood. Ruth Mahogany stepped up and delivered a spoken word piece which she followed up with a song. The mood in the space was shifting. The audience was gearing up for the evening. Perhaps the alcohol making the rounds was sinking in together with the music. Bibo began with a poetic narration of a robbery incident delivered in flawless Port Harcourt pidgin. His subsequent performances made the audience cheer and raise their glasses. We even got an honorary performance from Cheso. Honorary because he wasn't in the line-up.
When it was time for Raymond to wield the microphone, the audience was ready. He wore a grey sweat jacket designed with Ankara sleeves and the alpha-logo of his debut single, Love is Loss inscribed boldly on it. He ploughed through the songs on his EP.
Raymond is a storyteller and it was evident in the way his songs unfurled. The audience was bound by the narrative and flow. I could see it in the way half the audience sang along to every track and how those who did not know the words chewed their tongues and threw up their fists.
Jean, a French diplomat, expressed his delight at the show with a reference to Mary Poppings' 1964 musical. The show is "supercalifragilisticexpialidocious", he said.
According to Buchi, the broadcast journalist, "The most important thing about this concert was the vibe. It was so cool and so chill and so unpretentious. People dropped their inhibitions immediately and began to have fun. It was brilliant and this is what shows should be like."
Perhaps more uplifting is that Raymond is not relenting.
"What I have learned is that people who call themselves my fans are genuinely invested in my art and that's a blessing," he told me at that cafe in Wuse.
"And going forward now the plan is to put out more content, to get more work done. And also, to hold another concert, another LOTL concert because I think I'm on to something with it.
"And finally, I want to sell more of my merches and probably hold a poetry concert in 2020. But I guess we'll see how it goes." ✚

Anselm is a contributing writer to The Question Marker. He studied English and Literature at the University of Benin, and writes about, literature, pop culture, and politics.