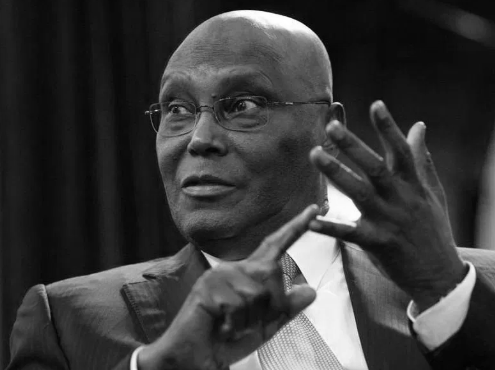 Last night, Atiku Abubakar, along with Peter Obi, featured at the final townhall-esque conversation organized by Daria Media and the Nigerian Television Authority for presidential candidates. Dressed in his trademark flowing agbada and bluish cap, Atiku sat for close to two hours, answering questions about his credibility and ability for Nigeria's top job. He did not strain to hear questions or turn to Mr Obi for clarity. Rather, he was sharp, coy and confident.
Atiku's chances of winning the upcoming presidential elections are greatly hampered by two things: allegations of corruption against him, his family and companies he has stakes in, and the dismal 16-years record of the Peoples Democratic Party (PDP), the platform on which he is campaigning.
Last night, when confronted with questions regarding these two issues, Atiku stuck to his usual arguments: neither him nor anyone in his family has been charged and found guilty of any corruption case, despite being "the most investigated" public official in the country's history. To counter the PDP's 16-years dismal record, Atiku and Obi tried to repeatedly remind Nigerians that the current administration has made things worse.
Evidently, the discussion's anchor, Kadaria Ahmed, was not comfortable with the arguments. She strained to find responses that showed signs of 'taking responsibility for past sins', but she didn't get one. Atiku and Obi stuck to the scripted edges of their arguments. At a point, Ms. Ahmed admitted she didn't want to look like she was speaking for the APC. The crowd cheered Atiku's salient points and jeered when it felt Ms Kadaria was pushing too hard.
Atiku missed a couple of opportunities last night to improve his corruption-propensity image. When Ms Kadaria asked him whether he would consider giving economic looters amnesty, he said 'yes', if they agreed to return the monies and invest it in the Nigerian economy to create jobs. But when Ms Kadaria inquired further about the morality of such action (would it not create a sense that it is possible to get away with corruption?), Atiku said it was a choice between moral rectitude and faster economic development. A better answer would have included steps his administration will take to plug the loopholes that continually allows the rape of the Nigerian people.
But there was no doubt that Atiku proved to be more presidential than the other leading candidate in this race, in terms of his capacity to engage with Nigeria's current realities. He was able to marshal his views in a modern and suave manner. There was a sense of effortless grace that accompanied his responses. He sounded ready and very little caught him by surprise. If his record as a businessman and investor is added to his intellectual and physical agility, he can help to transform the country's slow-growing economy. But will his reputation allow him? ✚
Jude is a Staff Writer at the Question Marker