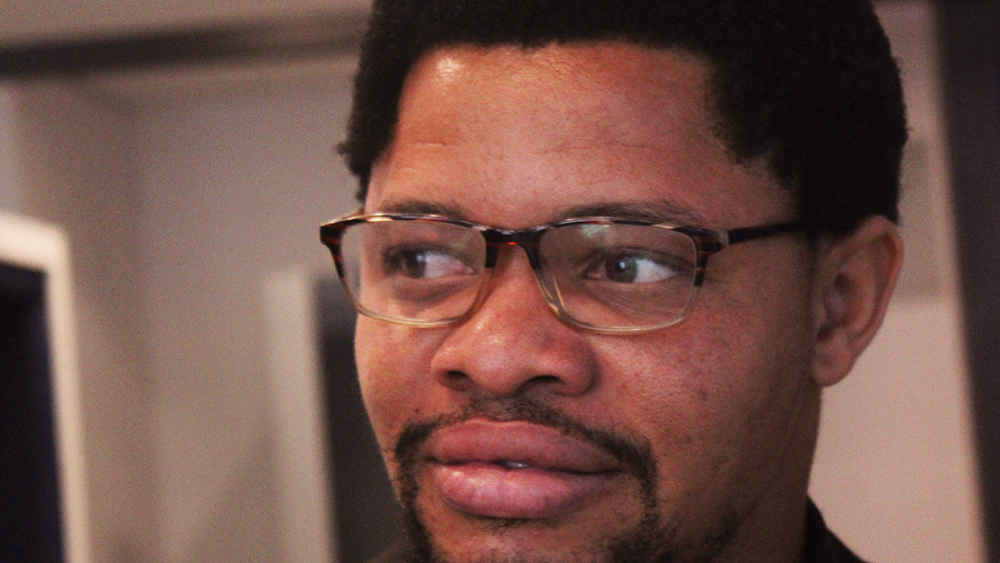 The interview took place in a makeshift dining area. The table was round and empty, devoid of beer. Nathaniel Soonest, an award-winning poet and journalist, was sporting a flower-patterned shirt. His eyes were red and tired – he had managed less than four hours of sleep in the preceding 36 hours. But, as we started to speak, his voice rushed out clear and coherent. The interview lasted for about 45 minutes, according to my recorder. Here are excerpts from our conversation:
When did you begin to write poetry?

It started when I was in primary school. I have always been fascinated with words. I used to be very shy, then I fell in love with Shakespeare and he became a medium for me to reach out to the girls.

Poetry started for you with love letters?

Exactly. I couldn't talk to girls face to face, so I would rather write the words on paper. I loved – and I still do – the fact that, in writing, I could say more.

When did poetry become something central to you?

It was during the years between finishing secondary school and getting into the university. I realised if there was one thing I could not do without, it was reading and writing poetry. There was this joy . . .

What were you writing about?

By then it had moved from wooing the girls to what was happening in my society – corruption, cult killings, the hardships I had gone through as a boy. It was like protest poetry.

Were you politically inclined in the university?

I was very political. I ran for office. I didn't win at the University level but I won at the faculty level. I remember when I was campaigning, people thought I was campaigning for the SUG Presidency, but it was for Sports. That was because I used to go on campaign trails armed with words, the beauty . . . for me, poetry is about the beauty of words, the way you juxtapose them to make something extraordinary. I think that is what fascinates me about poetry.
So you like Shakespeare. Who were your other influences?

My other major influences include Niyi Osundare. It also includes Esiaba Irobi, a bit of Wole Soyinka. But one major influence is Bruce Boston, a master of speculative poetry.

These influences, do they have something in common for you?

They are different. I read broadly and try to fuse many things into one while writing.

So you were talking about Bruce Boston?

Yes, that was when I got into university. Someone had introduced me to Eric T. Marin because I had written a poem about Obatala. So I went there and I saw many great writers of speculative fiction and poetry. That was where I noticed Boston and his poem, I Build Engines, which has shaped most of the poems I have written since then. I studied that poem for five years in the university.

You studied computer science. Were you trying to find the science in poetry?

That's the point. He brought the art in science. He fused both together. It was a beautiful marriage of words. Of course I was science-inclined, so it was beautiful to understand what he was saying. In my first year, I took a course called Engine Drawing. So when he writes, in the first line, I build engines/from the lines of battle/no matter how they are drawn, it meant a lot to me. After five years, I wrote a poem modelled after it, I Write Programs. So Boston has a great influence on me. In fact, he did a blurb for my first book and I have been published in a magazine where he was a judge. So it moved on from reading his work to me actively searching for him.
Your first book is titled, Teaching Father How To Impregnate Women. Your next book has a working title, The Nakedness of God. You seem to have a way of carving out interesting titles.

I think it stems from my journalism background. Your headline should be catchy. That is what attracts and draws people in. If you check some of the great books you know, they have some very beautiful titles.

Being a journalist and a practising poet, is there some sort of conflict?

It's not so far away from each other. You can actually build a very good career as a poet from journalism.

Do you know people who have done that?

Not really, but you can. There are a thousand and one people who have done it for fiction and nonfiction. It's easier to write stories as a journalist. My journalist doesn't entirely feed my poetry, but what it does for me is to expose me to certain encounters, while reporting, that inspire poetry. Once, I did a story about a boy who was saved after an attack in Syria – then I wrote a poem about it. So I've had moments like that where while reporting, an idea for a poem creeps in.

What's your writing process like? Do you write every day?

Yes, I write every day. Even if it's just scribbling down a metaphor, you have to write every day. I am one of those who say you have to write every day. To be a good poet, you must write. Then you read also. I read at least 10 to 20 poems every day, whether it is on Twitter or Facebook or by email. (I am subscribed to a couple of poetry journals) Also, I try to study at least one poem every day – what were the technicalities, what did this person try to achieve, what is new about it? So I am always scribbling on scraps of paper, trying to keep in touch.
Was there anything you were afraid of as a child?

My biggest fear was failing my parents.
Isn't that the fear of most Nigerian kids?

I don't know about that. I didn't come from a rich home . . .

So you wanted to be successful?

Yes, I needed to be successful, because I saw my parents giving too much, struggling so I could succeed. Then I had parents who always told me I would be great. I can't remember a day when we didn't have a discussion and it didn't include something about my greatness. They are my biggest supporters. Also, I think the pressure to impress them also stems from the fact that I am the first child. In the African sense, when every other person is failing, you can't afford to fail as a first child – people are always looking up to you.

And how has that played out in your poetry?

I try to play the role of dishing out knowledge to a younger generation in my poems, to help them find an upward path and come out successful. I think I like to speak for those who don't have a voice, because that's what I do as an elder brother – you won't touch my siblings or I'll come for you; it doesn't matter if I fail in my attempt, but the point is I'll come for you. In fact, my first book, Teaching Father, was trying to debunk certain myths, trying to shake the table as they say. It was about debunking chauvinism . . .

You are a feminist?

No I am not. I don't know what they call people who are striving for a balance. I really strive for a balance; I think there should be a balance.

If you are striving for a balance, doesn't that make you a feminist?

So I think the problem is with feminism as people perceive it. It's the term I don't want to be associated. Of course when you read Teaching Father – I have had a lot of feminist journals who want to publish my poems – some of the works there were advocating for women.

So why don't you want to associate with the tag?

The tag itself has been bastardised. That's what I feel. It is attached to so many things that are not necessary.

And what are some of these things?

For instance, why should you always cook for your husband? Stuff like that. I don't think that's what the term should be about.

You don't think that's important?

I don't think that's what the whole story should be about.

You don't think that cooking for your husband is a valid issue in feminist discourse?

The point is, I think every sane human being knows that there are times when you should not be able to cook for your husband. Feminism should be about women being paid higher if she's more qualified than the man. Those are the kinds of discussion I want to have. I want to have that discussion about how the woman plays a role in how many kids she wants to have, when she wants to have sex. So there are certain parts of it that seem trivial, so people just start looking for . . . at some point, feminism becomes like anti-man. There shouldn't be an anti-man; it should be man, woman exists. She is, he is, they are, I am. That's it.
The conversation is that men are the problem.

That's the point. So when you say you are a feminist, it seems like you want to embrace the tag, all men are trash. I
You don't agree that all men are trash?

Why should all men be trash? We've had great men do great things; men who stood the test of time and you can take them anywhere.

What are some examples of these great men?

One great man I know is my father. My father cooks, cleans the house, washes plates, washes pants, washes everything. He has stayed with his wife for over three decades and still going strong. I am not saying they haven't had their ups and downs, but they understand each other. So I think my father is a good man. I strongly believe that. I see his methods of treating women and it's fascinating. So, the world shouldn't be about men. It's for everybody.

You've won a couple of literary awards. Who are the people who have helped you the most in the literary world?

Dami Ajayi. I have fed my mind from Dami Ajayi's library a lot. His works challenge me, I engage him in talks and they are wonderful. So he stands at number one, as far as my literary journey is concerned. Not so many people give you a chance, especially in Nigeria. The literary scene is like a cult, like a frat thing; you have to belong to a frat so that they can raise you, you have to have certain ideologies. But Dami Ajayi has no biases, just basic friendship and a mutual understanding of what we like. Iron sharpeneth iron. He has two books. Clinical Blues, his first, was something else. I loved it, studied it. And some of the best poets I have met, I met them through Dami Ajayi.

How did you guys meet?

If I am not mistaken, we met a poetry event. I had loved Clinical Blues before I met him. So I think it was a Clinical Blues talk that brought us together.

And you guys have a mutual love for beer.

Yes, imagine us sitting over a beer and talking about poetry, telling him how Clinical Blues is better than A woman's body is a country (Ajayi's second book) and arguing about it. In Clinical Blues, he was showing off, this brilliant kid. But in A woman's body is a country, he shows how vulnerable a poet can be.

Another person who has helped me is Olulu (Olumide Holloway). He convenes the foremost Spoken Word outfit in Nigeria, War of Words. When I was way younger, we used to perform everywhere. He had a Sunday meeting where he gathered people – in their hundreds – and allowed poets perform. So Olulu isn't just for me. He helped a lot of other young poets. If I am talking about my growth, he can't be erased. Another person who has done something close is Efe Paul Azino; he carried us along and made sure we had places to perform at.

The guys who gave themselves to create platforms for creative expression were the guys who did a lot for us. There is also Eriata. One of my biggest prizes was the Eriata Poetry prize. This was a long time ago, when we used to post poems on Facebook.
I think Facebook has done more for poetry than the government has done.

Yes, it has. Sometimes you feel published already, because you can have up to a 100 people read that one poem. What has the government really done for poetry? Maybe in those days. When I won my first major poetry prize, which was the Nigeria @ 50 prize, my father expected them to take us somewhere abroad to perform because I think in his days that's what poetry used to be: you win a prize and then maybe you are going to be heading to some African country or England to present your poem. So the government has not really done a lot for poetry and literature, except for the NLNG prize. But that prize has not served. Where are the workshops, residencies, fellowships, where are the prizes for young people? You have someone going home with over a $100,000; there's so much more we can do. It's a winner-takes-all prize that doesn't serve all. It's because Jude Idada is someone who moves, that's why we are hearing some noise after he has won – he is going around, reading to children. Where are the other guys who have won in the past? We probably don't even know where they are. That's a very big prize, one which is bigger than most prizes in Europe and America.
Would you advise young people to become poets?

Only for the right reasons. So spoken-word has made a lot of people start engaging with poetry and they think going into Spoken Word will make them into WizKid. The moment that is your notion, I think you are lost.

What's the right motive?

Let me use a bible term – I am a bible man – I think the motive should be to edify the soul. Once your goal is to edify the soul, you will not be frustrated in the end. Because at some point, the spoken-word artiste becomes a failed rapper, somehow. If you are going into it for fame and fortune, you have it wrong. If it was for money, I won't do poetry.
What is poetry's value?

Asides from preserving language, I think poetry has its place in pricking the consciousness of the mind; it is about making people aware of what is and what should be. That's one value that poetry has. But its main purpose is to preserve language in its most beautiful form. We are yet to fully explore words; there is so much we can achieve with words.

As a bible man, do you see a connection between poetry and prayer?

Not every poem attains the level of a prayer. So it's not totally prayer, and it's not sermon. It is between prayer, sermon and song. Because at one point it is teaching, it has melody and feels like appealing to something. If you tilt it this way it becomes a song, tilt it that way it becomes a sermon and then if you tilt it the other way, it is prayer.
Achebe talked about Africans doing great things with the English language. Which contemporary writer do you think has and is doing this today?

Poetry-wise?

Across the spectrum.

It is cliche to call Adichie. She has already attained that. But I like Chigozie Obioma. I think that's where language should be heading to, helping to change the narrative of people, change what people think about. So I think Obioma is working hard.

In poetry, who has achieved that? I think we are all still striving. But there are some people who are really topping the charts, who are close to attaining what Achebe was saying. A person – and I am talking about Nigerian poets – like Umar Sidi is not popular but there is something about his poems and his language. Dami Ajayi is trying – like I said, we are all striving towards it. When you now climb up the ladder a bit, we have a younger generation that is coming – we have Gbenga Adesina, we have D.M Aderibigbe

Isn't that your generation?

Yes it is my generation, but who speaks about himself?

I interrupted because you said a younger generation.

Yes, I fit into that generation.

I felt you were saying Dami Ajayi was in another generation . . .

Even Dami Ajayi is in my generation. The thing is Dami came in early than many of us, way earlier, in terms of the exposure and people who he has rubbed shoulders with. So Dami Ajayi is sometimes grouped a bit out of our generation, just a bit. So he is sort of like between two generations, because you want to classify him in the generation of people like Richard Ali, Gimba Kakanda, Jumoke Verissimo. But he's actually not in that class; he is still a little bit younger. Of course, after the Jumoke generation, you can go further to the Odia (Ofeimun) generation – that's too far. Now you have a guy called Logan February –

He is in your generation?

No he is not.

So how do you come up with these generational boxes?

For me it's just an age thing. If I am in my thirties.
How old are you now?

I am close to 34. I am actually 33.

That's pretty young. Logan February is how old now?

Probably 20, 21.

I feel it's the same box.

But the point is 20 to 30 is a very long difference. We might think it's almost there, but I have a kid brother who is 14 years younger. But no, there is still a divide, because the way these young ones reason is not the way I am thinking about life.

What's the difference?

The difference is that there is more freedom. We had to break away from the cage in which we were born, which we were taught, to start being free.

You think the younger generation is free or is freer?

They are freer. There was a time when I couldn't use fuck in my poetry. In fact, it is worse because they are changing the notion about what poetry is.
When you say it like this, do you mean Nigerian is getting better or for poets?

Yes, poetry-wise. But it is not an attribution to the government. It is because individuals have woken up; and there are some other individuals who have risen up to the challenge of creating spaces for expression; you have the lady who does Ake, (Lola) Shoneyin; she is doing beautifully well; you have the African Poetry Book Fund (APBF), you have the Sillerman prize –

And the Brunel Prize.

Exactly. So young people are observing and saying if that young person can get it, then I can do it; so he starts reading and writing verse because he knows the opportunities are there. You have a situation where you don't even need to have finished a university degree to get an MFA in the USA. It wasn't there when we were growing up; there was no freedom. If we were free, there was no reason why I would have gone to the sciences in the first place – there is no reason.

I think the freedom now comes from enlightenment. Let me go back to the bible, it says in the last days, knowledge shall increase. A lot of young people will come with great things. We who came before them were going to be children of fear but we had to break the chains of those ideologies. So you have to break away from the things you have known because that's the only way you can thrive.

How would you want to be remembered?

He loved life. I want to be remembered as somebody who loved life, valued it and did his best to enhance it while on earth. ✚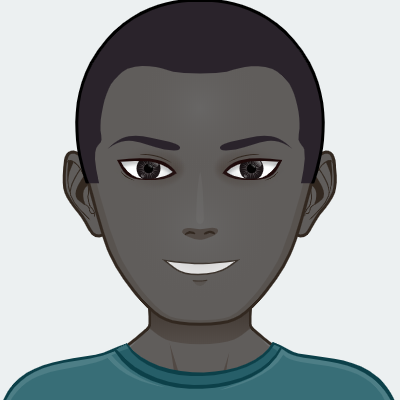 Elusoji is part of the editorial team at the Question Marker.