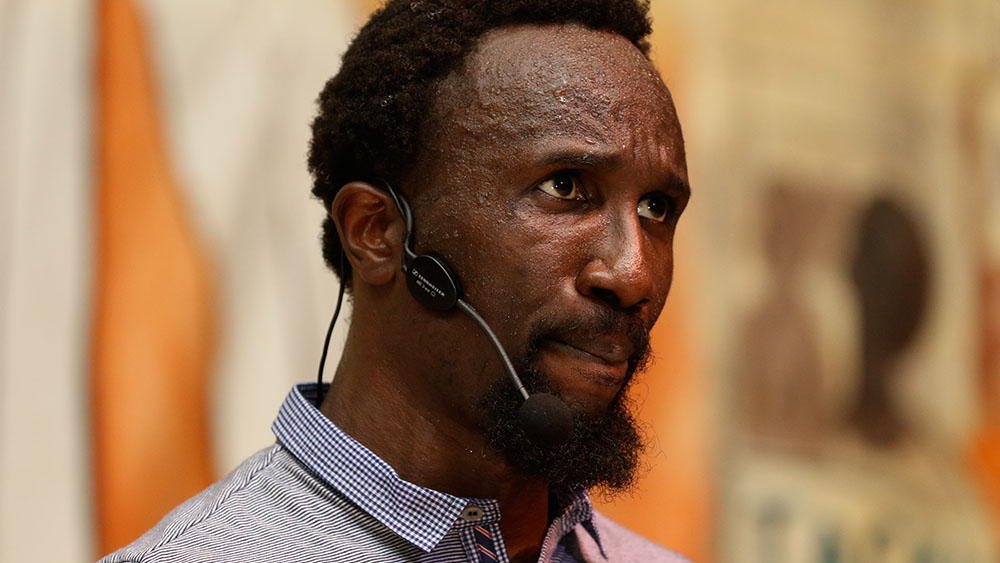 It was 6pm on October 12, 2019. The tenth installment of Dike Chukwumerije's Night of the Spoken Word (NSW) was about to begin. I sat quietly, waiting among the mostly excited 600+ audience. People continued to trickle in, the stage lights had been dimmed, the hall almost pitch dark. We were about to watch Dike and his lineup daze the crowd with varying performances. Dike went first, with a performance that tried to make a distinction between poetry, performance poetry, and spoken word, all of which are embodied in his work.

Other acts followed: Deji Ige and Pariolodo treated us to love poems laced with local references, metaphors, and intonations; Ruth Mahogani dedicated a poem to men, the ones who are worthy of the tag; Eketi Ette told a hilarious story of a strange encounter at a hair salon; Cheso performed socially conscious music and Promise performed a three-minute dangerous dance in blindfolds. Perhaps my favorite performance of the night was from Caesar of Aba Literary Club, who performed a one-man drama, taking up different characters while he rendered the last few scenes of Shakespeare's Julius Ceasar.

Some days before, on a rainy Tuesday, I had had the opportunity of speaking with Dike. We were somewhere in Maitama, he reclining on a chair, I sitting on the edge of mine, paper and pen in hand, ready to scribble, two fans whirring above. He made a joke to lighten the mood. I laughed. It wasn't my first time speaking with him. I had spoken to him many times within and outside the Abuja Literary Society (where he is Programs Director); I had worked with him on the Benin edition of his wildly successful poetry stage production, Made in Nigeria. But this felt new – throwing series of questions at him and waiting for his thoughtful replies.

Since he recently turned 40, I wanted to know what it felt like as a Nigerian, writer, and a man. It took him a while to gather his thoughts as he reclined on the brown leather chair.

DC:
It's a time of a lot of introspection. At this stage in your life you really start to come to terms with yourself; you sort of have a clearer view of your strengths and weaknesses. I have lost a bit of that naivety. My idealism has been tempered by realism. You tend to have more of a balanced view of both yourself and the world. And for me my greatest revelation has been myself. For instance, things that I thought I'd have overcome at this age, I still find them dragging on.
As a Nigerian, he felt exactly like any Nigerian would – disillusioned. Turning 40, he says, leaves one with a deep sense of sadness at the fact that things haven't changed, at the way things still are.

It's almost two decades since I graduated. With all the hopes one had then, finding us still struggling with these basic things like no light, no water, and all the many challenges we still face, it leaves one really sad.

But as a Nigerian writer, Dike believes there's a lot to say for progress.

There have been so many developments. So many new areas have opened up – slams, spoken words, literary activities, literary festivals – these things didn't exist twenty years ago. It's all exciting.

But it's not all rosy here either.

Old problems abound. Intractable problems, like the challenge of becoming successful as a local writer without the need to export yourself first, the paucity of an audience.

We return to Nigeria.

It's not all bad sha. He pauses, as though he is gauging his words. We now have freedom. We can now speak, unlike when I was in the university during Abacha. People could not gather for any meeting or anything. These days we take it for granted but it is progress.

I moved the conversation, asking why he doesn't practice the profession in which he has earned two degrees. Could Nigeria be the fault?
He says he has never been interested in the conventional practice of law, of going to court and handling a case. Rather, he has been more invested in the philosophical and social engineering aspect of law. I ask him to explain more.

When you study law, you get to research on virtually every aspect of life, because there is a law for everything. In that sense, as a discipline that encourages you to research, to read, and to see how the social instrument of the law can affect human behavior. I am more interested in asking the social questions when it comes to laws as opposed to the legal ones. Questions like: 'Is this law appropriate for society?', 'How can we make it more effective?', 'Why is the legal system not effective?', 'Why is the society not functioning?', 'Why do leaders find it easy to break laws?'.

So I ask him if he has tried to use his art in that manner.

My art in recent times was inspired by my academic study. My first collection of poems The Revolution Has No Tribe was written after I completed my Masters. It was my artistic expression of my academic knowledge. One of the recognitions I came to during that period was that part of the problem with our system and why it isn't functional has a lot to do the culture on which it rests. So, whether the law is effective or not has to do with the person that's applying it, how he/she thinks and where he/she is coming from. And one of the effective ways of affecting popular culture is through the instrumentality of arts and culture, through entertainment. My resort to poetry came from reasoning and deliberation because I have been thinking about how I can intervene in society. So I said this is the channel that I use and I decided to use it. In my poetry, I remember when I first started; there weren't a lot of people doing political poetry or socio-political poetry especially as spoken word. It was mostly about emotions and self – discovering self, repairing self. So I very consciously started using my poetry to push out certain ideas on how society should be, targeting consciousness, rather than the internet. In that sense, I'm actually practicing my profession.

He has eight published books to his name but only one of them is available to be purchased and I really wanted to know why. He produced a short laugh.

Unfortunately, I began my literary journey by trying to publish but couldn't. At some point I just published it myself. They're out of print now, except for a few copies that might be on Amazon but I don't think they deliver to Nigeria. After selling out the copies I had, I decided not to print them for a while. Printing books and trying to sell is too much work. Plus, at the time, I wasn't so known. Even now, it'll still be difficult to sell but not as much as before. I decided to make a name first and try again later. Maybe next year I'll try to reprint some of them. Even these stage performances, people ask for written copies of them and I think I'll make them available alongside the videos for documentation purposes.

Dike's Made in Nigeria – a 120-minute stage poetry production that combined poetry, music, dance, and drama in the telling of Nigeria's history – is a huge success, having toured almost half of the country and performed more than 20 times. It was first produced in the independence weekend of 2016 for three days and has since then become a sensation. I asked him how this popularity has affected him and if he will ever write poetry for the page again.

Sometimes I even ask myself if I can still write page poetry. My brain has become too accustomed to stage poetry I no longer find it natural to sit down and write page poems. It's still there but it'll take more effort. There are people who don't even believe I do poetry. They say I just have rhythm and cadence and I apply tricks. I quite understand that. There are some things I do that isn't poetry but can be called spoken word and I believe the difference exists even though I blend both sometimes. Even at the beginning I was accused that my language was too simple and therefore cannot be called poetry. But I belong to the school of thought that believes in simplicity and that there's room for simplicity in poetry. My aim was to make what I'm saying accessible and simplicity is the way to do that.

I read Dike's novel, Urichindere, in 2015 and I couldn't help but see the similarities between him and the protagonist whose name is also the title.

It's not me, but there are parts of me in Pips McQuin (Urichindere). He is a composite of different people, not just one. But the part where he witnessed the death of a fellow student as a health prefect is my experience. I had that wicked sense of humor too. Most kids do.

How does it feel now that he's famous?

There is that pressure on you any time you step on the stage. People are expecting to be blown away. So, you deal with the pressure, which I don't really like. I have had to deal with myself because that pressure can easily take away the fun out of you and what you do, that ability to enjoy what you do. It is important. So many times I still tell myself that it doesn't matter whether they like it or not just to remind myself to be free from my audience expectations. Honestly, you feel the weight of their expectations sometimes. It's not a big deal for me. I think the important thing is to not get high on your own stuff, to not let it get to your head. One of the ways is to stay humble and keep people around you who help you stay grounded. Do all the things you used to do – do the dishes, carry your own bag, clean your shoes, wash your clothes – and constantly remind yourself to keep your head low and have a clear sense of your purpose. For me, fame is not my object.

In May 2018, Vice-President Yemi Osinbajo recited one of Dike's poems "The Revolution Has No Tribe" on national television. How did that make him feel?
I was flattered and grateful. He didn't choose a random poem; he chose one that really means a lot to me. It encouraged me on this path that I'm on: to use poetry to affect society. (But) while it validated my work, it didn't change how I write or who I write for. I still write for the person next to me.

I asked if he agrees that spoken word has aided the watering down of poetry, Dike is inclined to agree because spoken word is mistaken for poetry.

I personally think they are different, some good spoken word piece when critiqued as a poem might be found to be a terrible poem. A good poem can also make a good spoken word piece. It's just like poetry and song lyrics. And people tend to compare the very best of poetry with the very worst of spoken word. The experience of writing both is quite different. So I agree that a spoken word artist who calls him/herself a poet can be accused of watering down poetry. But there are one or two things that both genres can learn from each other.

Any role models or people who inspired him?

I always talk about my brother, Che. He is an artist, a poet. He used to write these long poems, he and his friend, Onesi Dominic, I absolutely adored. I read his works like my bible. The very first poem I wrote was me copying his poem and calling it mine. In addition to that, my parents were readers. There were a lot of books at home and so I read and read. My father had a magazine publication that had a literary corner where Nigerian writers published their works. My mother also tells a lot of stories. I read all the African classics, Khalil Gibran, Maya Angelou and I read a lot of Robert Ludlum and the Macmiller series.

If you've been following Dike as closely as I have you'd know that his politics isn't common. I wanted to know what's up with that.

I'll say my politics is futuristic. I am deliberately invested in how I'll like Nigeria to be. I have a clear idea of how I'll like Nigeria to be rather than how it is now so I align my politics with these ideals I have. I often call myself a meritocrat rather than tribalist or nepotist – the politics that is based on merits. I am largely Afrocentric; I believe in the importance of the existence of strong, prosperous, functional African states; I believe that the place of the black person anywhere in the world is inextricably tied to the material and socio-economic condition of Africa. If Africa doesn't develop, black people everywhere will never be truly free. Obama can be president and Meghan can be princess and it won't still change the place of the black person in the world.
So what does Dike think about Feminism?

I believe in equality but I often take it for granted, I don't even call myself a feminist. I totally believe in equality even though I have no problem with culturally defined roles as long as it is recognized as a default, a template that can be changed or negotiated between people. Prescriptions are natural and aren't bad as long as it doesn't override the freedom and choice of individuals to decide to modify it to suit themselves.

What about gay rights?

I believe in the right to privacy. People should be free to decide who they want to be intimate with and the State shouldn't have a say in it. I don't think it is an area where laws should affect. However, I have doubts when children and family comes to question. I am not yet sold on the concept of same-sex family and whether it is something that should be recognized as not having a negative impact on the upbringing of the child. I'm still researching on it and haven't yet seen it proven. Most arguments for it are emotionally driven. I'll like to have a conversation about it without being accused of being homophobic or that sort of thing.

And globalization?

It depends on what exactly you mean by globalization because for some people, globalization simply means the internationalization of their own culture. I am for a globalization that truly allows multiple voices to weigh in on the decision making process not the internationalization of a certain people's culture. I am all for a truly multilateral world, not one that is dominated by the West, or China, or Russia.

A proud father of three, has fatherhood altered his person in anyway?

Completely. Becoming married and becoming a parent changes your world completely. It imposes limitations on you, increases your responsibility, enhances your perception and deepens your empathy. For example, growing up in a male-dominated family, I had so many brothers and just one sister but now I have more women in the house and that has affected my perception of women and things that relate to them. It also has a huge impact on my time and resources. One also tends to be more concerned about the country and the world. Like Nigeria for instance, the state of things, roads, electricity, and the quality of education.

Earlier in our conversation, he had mentioned that the Nigerian literary scene has greatly improved but I wanted to know what he thinks it lacks but seriously needs. This was one of the few questions where Dike didn't have to pause to answer.

The capacity to crown our own kings. Majority of our literary celebrities are crowned from outside the country or as a result of some award they won, most of which is often international or in Nigeria, NLNG. That whole idea of having to make a name abroad first or just winning award isn't ideal. A place like Abuja, there should a strong writing culture here whereby just by publishing in Abuja or in Lagos, we should be able to establish writers just by virtue of them being read in cars, in buses, in taxis. That inability doesn't reflect well on us.

Does Dike have a conviction regarding the future of Nigeria as a nation. He does but it less a conviction than a prayer. It took some silence and a couple of sighs.

I don't know. We can't continue like this. Something has to give at some point. Because if we continue like this, with these strong primordial sentiments, there has to be a certain group of Nigerians who need to be conscientized to bring about the change we need. They already exist; they just need conscientizing. These people were born and bred outside their state of origin and can barely speak their own native languages. They have witnessed firsthand the broken roads and system, they looked for jobs and couldn't find, no light. These commonalities will be the uniting force that will create an identity. I'll keep on making my art and contributing to the conscientization of these people with the hope that they effect the desired change. If this is successful, then there'll be people available to deliver Nigeria.

Outside of making poetry shows, does he have other long-term plans? Also, since there is a Facebook group titled "Dike Chukwumerije for President" (Dike did not create the group), I had to ask if he has any plans for politics.

I am currently hosting NSW10. The original intention behind it is to showcase talents and introduce them to my audience and my audience to them, to help them develop. I want to help in building bridges between these different art forms and maybe systemizing it. That's how an industry is built, by coming together. As for politics, it is not completely ruled out but I don't see it happening. Maybe if the conditions are right, it could happen. It's not my focus. For now, my focus is developing a strong voice for the advocacy of socio-political values and seeing if a critical mass of people can rally around those values. That's step one, if I can't get past step one then politics is many steps ahead.

Rounding off, Dike had an insightful tip for young people as well as a tentative reading list.
Be courageous enough to stick to it when you're right and be humble enough to change it when you're wrong, be wise enough to know when is when.

Book recommendations?

He said read my book, Urichindere and laughs faintly. Read a comprehensive history on Nigeria and Africa. There are many, just choose one. Read Black Athena by Martin Bernal, read Irresistible by Adam Alter, it is a book about internet addiction. And finally, read any book on emotional intelligence. ✚

Anselm is a contributing writer to The Question Marker. He studied English and Literature at the University of Benin, and writes about, literature, pop culture, and politics.