We had no home, Bloda and I, for we were predatory wanderers. Our legs were fastened to the road, in any direction that glimmered with potential. We moved through towns, basked in cities and operated in hotels, taking control of people's lives through blackmail. We knew that to completely knock a man down, you simply had to know the right place to hit. And sex was almost everyone's kryptonite.
It was Bloda that lured me into the game. That was about four years ago. I wouldn't say he lured me, really; he made me an offer I thought I would be a fool to refuse. He was my elder brother's friend, and after my brother, Nandochukwu, was killed during a failed kidnap operation at Amawbia, Bloda asked me what plans I had for my life. I stuttered and mumbled a chain of nonsense of how I intended to write my West Africa Examination Council exams and go to university. He had laughed, some short laughter that discomfited me. He wondered how I enjoyed basking in the illumination of some treacherously spinning fantasy, a resplendent mirage doomed to be out of my reach.
"No be you Poison tell me say no sabi spell your name?" Bloda asked.
We were under a guava tree at Student Field, a football pitch at the outskirts of the community, watching a dozen half-naked urchins kick some half-deflated felele around. And when some lad kicked the ball into the small iron goalpost, half a dozen boys from the sideline poured into the field. "Na our set o!" they chanted, ready to fight their way into the game if need be. I wished I could join them, too, in the field, but my football skills were as horrible as it could be. It didn't help that Bloda wanted to talk to me. When Bloda wants to talk to you, you better let him talk to you, else you risk your eardrums being smacked out of your mouth.
"I can read," I said. I wondered why my brother would tell him that, that I couldn't spell my name to save a life. Was that what kidnappers discussed—whose sibling was dumber than the other?
"No be so Poison tell me," he said, and I wondered if that was a sigh of disappointment he just gave, "but e no mean; no wahala."
Silence wedged between us as we watched the boys resume a round of football. Someone was asking the right winger to watch the offside trap the opponent's defense were setting.
"I tell am say I go take care of you," Bloda suddenly said, breaking through the heavy barricade of muteness. "Poison wan make you no hungry or sleep for underbridge."
I nodded. Whatever my brother may have done, whatever he represented to society, he cared about me. And it still remains the subject of wonder to me sometimes, how he protected me but abducted people, hurt people. My brother only loved those in the tight, small circle of his life. There was a UEFA Champions League group game the day he died. I was at the viewing centre when I got a call from my sister. She was wailing on the phone and her speech was incoherent with worry. I told someone to watch over my seat while I found out what was going on over the phone. As I stepped into the open night, the wind surging through space, Ijeoma's words hit my ears with astounding clarity, splitting my breath abruptly into gasps. I asked her what, what did you say? Even when I could hear every word that bounced on my head like marbles, even when the sandy earth on which I stood spun like the coin of a jester, I kept asking her if she said our brother just got shot.
To continue reading, download The Question Marker's 8th Issue. It's free!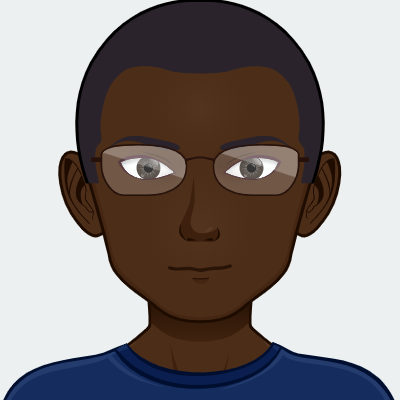 Eloka is an Editor at the Question Marker.